Farewell Lecture Prof. Schilling
Kleine Satelliten für große Aufgaben
| | |
| --- | --- |
| Date: | 10/20/2022, 5:00 PM |
| Category: | Startseite-Mathematik, Startseite, Veranstaltung |
| Location: | Hubland Süd, Geb. M2 (Informatik), Zuse Hörsaal |
| Speaker: | Prof. Dr. Klaus Schilling |
Invitation to the farewell lecture entitled "Kleine Satelliten für große Aufgaben" by retired Prof. Dr. Klaus Schilling on October 20, 2022 at 5:00 pm.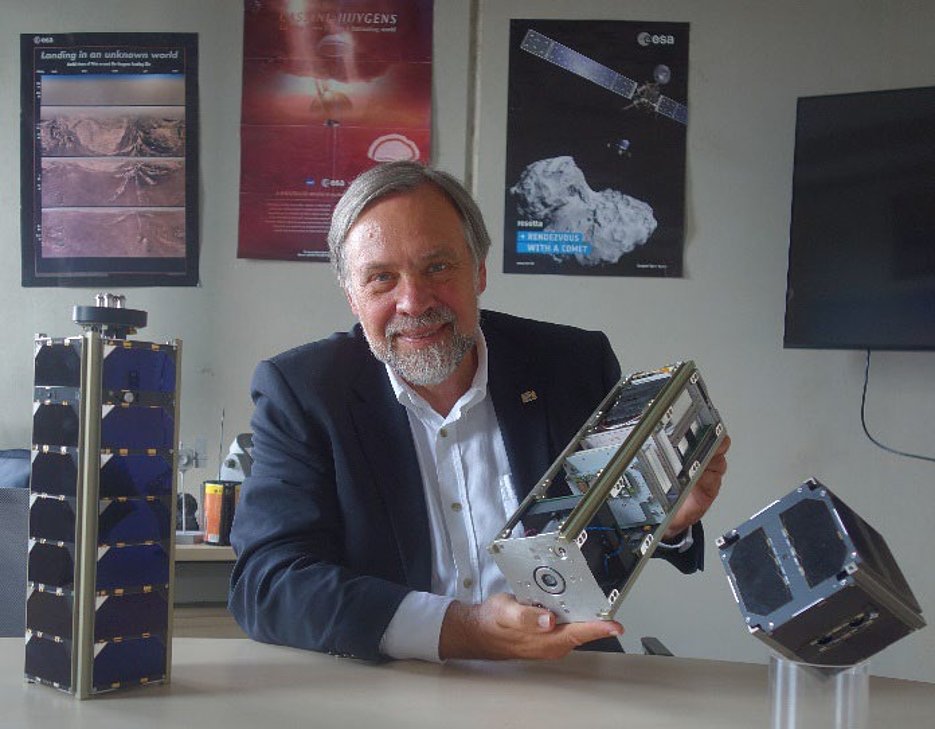 Die verschiedenen spannenden Satellitenmissionen an denen ich mit meinen Teams mitarbeiten konnte, werden im größerem Zusammenhang betrachtet: Es umfasst die Erforschung des Sonnensystems (Saturn / Titan, Kometen), insbesondere der Erde (für Klima, Katastrophenhilfe, Telekommunikationssysteme und Digitalisierung). Es soll hier auch auf die beeindruckenden künftigen Anwendungsmöglichkeiten der Raumfahrt und insbesondere der Kleinst-Satelliten eingegangen werden, um wichtige Beiträge zu den Herausforderungen bei der Bewahrung unseres Heimat-Planeten mit einzubringen.
Interessierte können die Präsentation verfolgen unter https://go.uniwue.de/space-colloquium
Curriculum Vitae Klaus Schilling:
Klaus Schilling war in der Raumfahrtindustrie seit 1985 verantwortlich an der Realisierung interplanetarer Raumsonden (wie HUYGENS zum Saturn-Mond Titan, ROSETTA zur Erforschung der Kometen, Mars Rover MIDD) beteiligt. Seit WS 2002 hielt er Vorlesungen an der Universität Würzburg und wurde 2003 zum Professor für Robotik und Telematik berufen. Parallel war er als Consulting Professor 2002-2006 an der Stanford University intensiv in Kontakt mit der Entstehung der CubeSats. Er baute mit seinem Team den ersten deutschen Pico-Satelliten UWE-1 mit nur 1 kg Masse, um damit ab 2005 im Orbit "Internet in Space" zu untersuchen. Das "European Research Council" zeichnete ihn 2012 mit einen ERC Advanced Grant für Kontroll-Ansätze verteilter, vernetzter Formationen aus Kleinst-Satelliten und 2018 mit einen ERC Synergy Grant für Wolken-Charakterisierung durch eine Formation von 10 Kleinst-Satelliten aus. Seit 2014 ist er Vollmitglied der International Academy of Astronautics. 2017 erhielt sein Team vom Zentrum für Telematik den 1. Preis beim Airbus DS Space Challenge für besonders fortgeschrittene Robotik- und Automatisierungsmethoden zur Produktion größerer Stückzahlen von Satelliten. Für seine Leistungen im Bereich der Kleinst-Satelliten erhielt er 2021 die Eugen-Sänger-Medaille der Deutschen Gesellschaft für Luft- und Raumfahrt, ebenso wie 2022 den AACII Global Award verliehen. . Im Bereich der Robotik wurde er mit dem Walter-Reis-Award for Innovations in Robotics sowohl 2008 (mobile Roboter) als auch 2012 (Medizin-Robotik) ausgezeichnet.